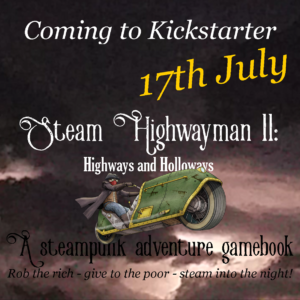 From tomorrow, Tuesday 17th July, you can fund your copy of the second book in the Steam Highwayman series: Highways and Holloways!
Set around Henley, Wallingford and the Chiltern villages, SH2 sees you take to the air on extended missions, engage in factional rivalry, encounter dozens of combats, meet a dangerous sky pirate, build new friendships and discover new secrets, find ghost-ridden vales, bitter noblemen, vengeful revolutionaries and inspired inventors!
The book is 1500 passages long – 50% more than Steam Highwayman I: Smog and Ambuscade – and interlinked passages allow you to continue your adventure and travel between volumes at will.
Who is the Steam Highwayman?  YOU are the Steam Highwayman!