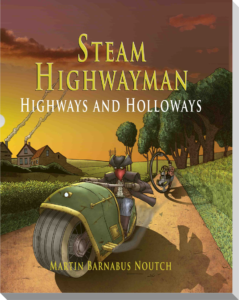 225 backers joined the campaign
£6395 pledged
322 books ordered
5 pieces of custom art commissioned
159% of the funding target reached
So that's good news!  I'm particularly pleased that in the final day of the project, so many of my previous backers returned to pledge for the sequel to Smog and Ambuscade.  This means that 100 of the 186 backers of my previous campaign have returned – a figure to be proud of – but also that I have reached 125 new backers since then.  Wow!
The total copies of Steam Highwayman gamebooks printed until now number fewer than 300, so by fulfilling these pledges, I'll be more than doubling the presence of Steam Highwayman on shelves and coffee tables across the world.
We've also seen backers from around the world playing a significant part.  Australians made a particularly big contribution this time, with 11 backers pledging – 8 of whom are new to the project.  At this rate I'll expect to see a dusty Ferguson velosteam cosplayer in the outback any time now.
The campaign may be complete, but the publication process still has a way to go.  My jobs for the next months (Aug-Dec) look like this:
– Complete editing (asap)
– Complete first round proofreading (asap)
– Commission interior illustrations (Friday)
– Contact WANTED CRIMINALs for likenesses
– Plan for backer input into illustration
– Produce edited draft 2
– Distribute draft 2 in sections to volunteer/backer proofreaders
– Complete further edits
– Produce illustrated draft 3
– Order and evaluate proof copy
– Produce final printing edition
– Order copies for worldwide despatch from IngramSpark printing hubs
I'll also be continuing to be promoting my books in person at Steampunk events through the autumn.  Watch out here to find out what, where and when – and you can even choose to subscribe to my blog if you'd like to be sure you don't miss out.  Should be something over there on the right on the sidebar.
So I'd like to express my gratitude to all of my backers and supporters.  Your interest, your pledges and your comments all the way through the project make it possible for me to keep going – I'm a words of affirmation sort of person, as my wife will tell you.  So let me encourage you!  If you're considering publishing a book or crowdfunding a passion project, don't wait for it to be perfect or finished or even totally ready.  It's simpler than it looks and once people get an idea of why you're excited about it, they seem to get behind you.
After all, who is the Steam Highwayman?  YOU are the Steam Highwayman!