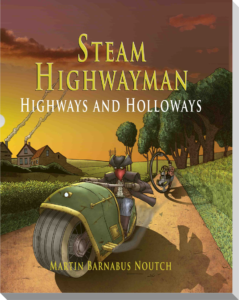 Highways and Holloways continues the adventure begun in Smog and Ambuscade, travelling further west to the high Chilterns north of Henley-on-Thames, giving the reader chance to rob, pardon, pursue and punish even more widely.  Encounters with ghosts, impersonations, cracking of codes, rides in airships, duels in the sky, on the water, on the road, in theatres and on the croquet lawn… Bishops, officers, gentlewomen and students to rob, criminals to free from prison, protestors to succour, labour gangs to mobilise for the revolution, secrets to find and morris dancers to sober…  All in one massive volume, 1500 passages long!
Steam Highwayman II: Highways and Holloways  was crowdfunded on Kickstarter between June-August 2018.  If you'd like to see the details or read the updates, you can head over there now.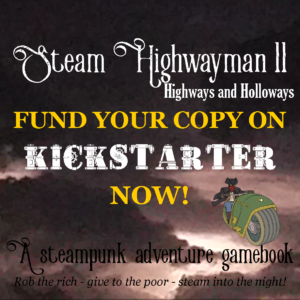 Highways and Holloways is currently in progress, with editing, proofreading and illustration underway.  It is on target for delivery to backers in December 2018 and will be available online shortly afterwards.  If you missed your chance to pledge, please get in contact and reserve your copy now!
Next volume: The Reeking Metropolis