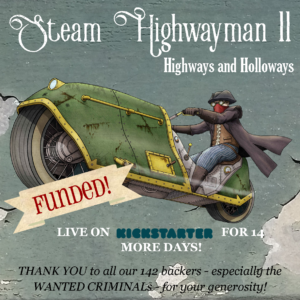 Yep – that's right.  Steam Highwayman II: Highways and Holloways is now fully funded on Kickstarter.  It's particularly to do with the generosity of four backers who have chosen to pledge to be drawn into the book as Wanted Criminals – watch out for these dangerous people and their wanted posters!  But of course, those four wouldn't have been able to fund the thing entirely – I'm grateful to the 138 others – and families – who have chosen to pledge and contribute to the project.
In the meantime, I've been editing and working on smoothing out the playthrough.  This morning, though, I woke up with an idea and began sorting out some of the planning and links for SH3…  Perhaps that was a good way to be thinking!
There'll be news soon about the cover and other illustrations, but for now, good news and thankyou!