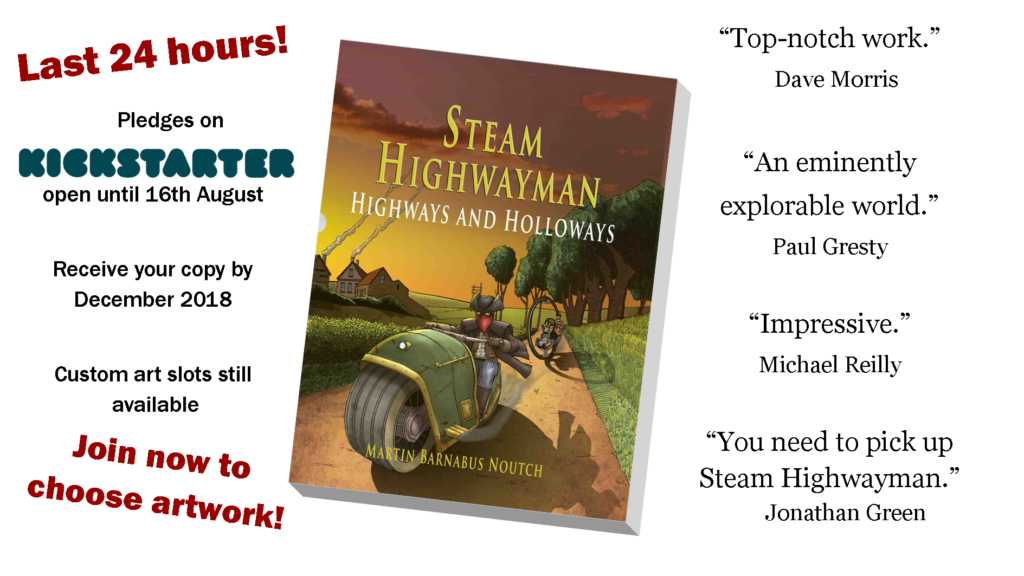 One day left in the Return of Steam Highwayman campaign and we're approaching 150% funding.  Would a sensible stretch goal be helping at this point?  I've stayed away from them so far in the project, but I'm starting to think that SH3 might see a whole lot more…
Anyway, there's been some great interaction over on the campaign in the last few hours, with new backers joining overnight, particularly from the US, Europe and Australia.  I've updated a few FAQs – because they've been asked once or twice, rather than frequently – and added more keen backers to a provisional proof-reading list.
Thanks to everyone who's stayed with the campaign – particularly the 90 or so repeat backers who came with me from SH1 and the first-day crowd.  That's been really encouraging.  I've got a busy day ahead of me, but expect an update tomorrow night on KS and here as well.
Who is the Steam Highwayman?  We, er, are the Steam Highway.  Mans.  And womens.  We are them…