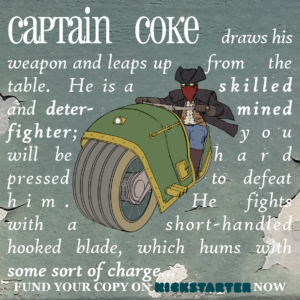 Steam Highwayman II has been live on Kickstarter for just less than 24 hours and currently has 50 backers – putting it at approximately 30% of my funding target.  A great start!
In this short amount of time since the project's launch, there's been a lengthy livestream, a rivalry for position as Backer #1 (narrowly stolen by the pork-pie obsessed Ben Roberts) and a re-gathering of many of the backers from last year's campaign.  It has felt a little bit like a reunion.  In fact, of the 50 backers I am currently estimating that 60% were previously included.  That implies the other 40% is growth so far – and if that continues, I'll be a very happy man indeed.
If you've seen my account on instagram you might have noticed that I'm moving on from my #steampunk #definitions series (although I'll certainly return to that) to feature some extracts from passages of Highways and Holloways.  If you haven't yet seen that account, please take a look and see what you think of the #definitions series – I'm considering turning them into a steampunk lexicon…
GamebookNews.com has featured the project again and I'm anticipating some other coverage in the next few days.  If you have any channels through which to publicise the project and help us reach our target, please share away!