Steam Highwayman I has now been live on Amazon for around 3 months and I'm very pleased to find that it is continually being discovered by new readers from around the world.  My intention with distributing through Amazon was that potential readers would experience the minimum of clicks b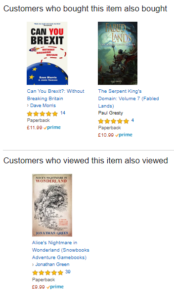 etween hearing a recommendation and being able to order the book: it's something like a minimum of 3 clicks if you're already signed in and a regular customer.
But on top of that, Amazon is also a great place for me to make my own brand.  I'm very happy to see the excellent company in which my book finds itself – ie Messrs Thomson, Morris, Gresty and Green.  I've seen my book on shelves alongside these writers – now I'm seeing it on sale alongside them.
Because of Amazon's special recipe, I won't be paid for any of the sales for some time yet, but once the first few pounds a month begin trickling in, I am convinced that this will be a stream of interest and income that will last a very long time.
In other news, I've been editing and formatting SH2 this week: yesterday I corrected all the dice-rolls and today I logged and fixed all the codewords.  A few more stages like this and I'll be able to send it to proofing.  Ben has some more work to do on a provisional cover and then I'll be able to start the buildup to Kickstarter 2: SH2.